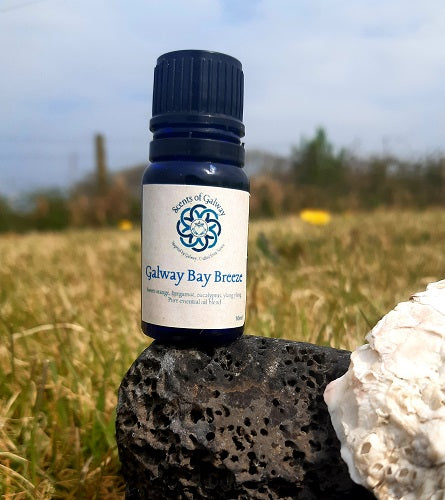 Galway Bay Breeze Essential Oil Blend
Regular price €15.95 Sale
Fresh, clarifying and invigorating, our Galway Bay Breeze blend will effortlessly transport you to the beautiful west of Ireland.

Close your eyes and breathe in the cleansing notes of eucalyptus, the uplifting notes of bergamot and sweet orange and the exotic scent of ylang-ylang, making you feel thoroughly cleansed and refreshed, ready to take on the day!
How to use:

Oil burner: add a few drops to water and heat with a tea light candle - do not let the burner burn dry. ALWAYS DILUTE WITH WATER

Electric diffuser: Add a few drops to water and diffuse according to instructions

Massage oil: use 15-20 drops of essential oil blend added to 30ml carrier oil (Using a 2% essential oil dilution is generally considered a safe guideline for topical application of essential oils on adults, 1% for children or elderly).

Bath Oil: Add a few drops to your chosen carrier oil and disperse in filled bath.